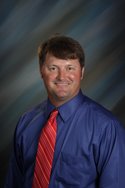 Mr. Joshua Herring,
Principal
Phone: 334-762-3152
Email:
Everyday is a great day at Ariton School!
ARITON SCHOOL
*Learning Today . . . Leading Tomorrow *
The staff of Ariton School is very honored to provide a quality education to the young people of this community. We work hard to prepare ourselves, our campus, and our programs to bring academic and athletic excellence to our students. We pride ourselves in producing well rounded, moral, and knowledgeable students. We appreciate the support of our parents and community for helping us mold our students into productive members of society.
Ariton School continues to meet established state and national standards. Ariton School stakeholders raise the bar each year to push our students and teachers to increase our level of achievement. As the principal, a parent, and as an alumnus it makes me proud to say that we have one of, if not the best academic schools in the region. Teachers are dedicated in making sure every class meets its proficiency rate in Math and Reading as required by federal legislation. We are very proud of our academic accomplishments! We attribute this to the great teamwork of our staff, parents, and students.
I am proud to be a part of the Ariton School family. My door is always open and I encourage you to visit me with any concerns. My office is located in the Richardson building.